Europa 2G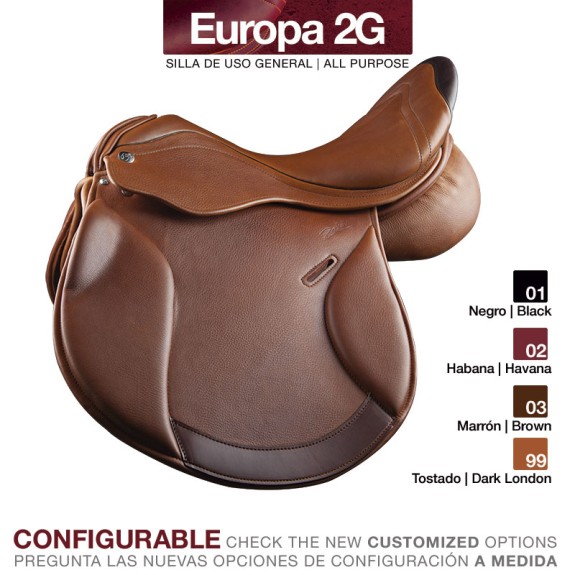 00174
SRP: $3240 (base before options)
In Stock: Call to order
An innovative model of the new Zaldi 2G saddles collection with different options of configuration.
STANDARD FEATURES
• Made of top quality European boxcalf (2mm) leather.
• Mixed panels made of wool and intelligent latex rubber.
• Mixed flap. Inside back pad, outside knee blocks.
• Intelligent latex rubber panels.
• Semi-deep tree for jumping, made of special materials, using leading technologies. Saddle tree with 10 years guarantee.
• Stainless-steel safety stirrup bars.
• Short girth straps.
• Available sizes - Rider: 16", 16,5",,17",,17,5",18"
Tree Sizes: 28 - 34 cm
Colors: Black, Brown, Havana, Tobacco, London
EXTRA OPTIONS FOR CONFIGURATION (Download configuration sheet).
Tree Options:
00174 POLYPROPYLENE saddle tree (ADJUSTABLE BY A SADDLE FITTER)
00175 CHANGE Saddletree
1. Stirrup bars: Short / Long / 2 positions / 4 positions.
2. seat and tree size
3; stirrups bar, 4 standard options 1 upcharge option
4 seat standard or 2 upcharge options: 00902 Extra-comfortable seat or 00918 Country seat
5. Leather options: boxcalf or crupon
6. Channel width
7. Panels, standard or upcharge option 00916 Multi-Position panels
8. panel options: standard, anatomic or upcharge 00913 Drop Panel
9. KNEEPADS: TM-with screws velcro under the flap or sewn exterior
10. Block options:
Front block- TM or Velcro 6 styles Kent, Cross, Royal, New Star, Ledyard, Top Jump, Zaldi
Back Block: Exterior or interior 5 styles Cross, Royal Event, New Star, Ledyard, Zaldi
11. Girth Straps/Billets Normal 3 billets, upcharge M00913 Multiposition 1st billet, with or without elastic
12. Color combinations, Bi-color or solid, stitching, piping and trim
13. Ladies saddle option, 1cm wider between the piping the twist of the seat.
Measurement Chart:
Europe
00174/00175
Seat
Weight
Flap (FROM STIRRUP BAR)
Panel
Panel Supported area on back
16"/41cm
N/A
N/A
N/A
N/A
16.5"/42cm
N/A
N/A
N/A
N/A
17"/43cm
5.4KG
36CM
45CM
40CM
17.5"/44.5cm
5.6KG
37CM
46CM
41CM
18"/46cm
5.8KG
38CM
47CM
42CM
**flap length is measured form the
stirrupbar to the bottom of the flap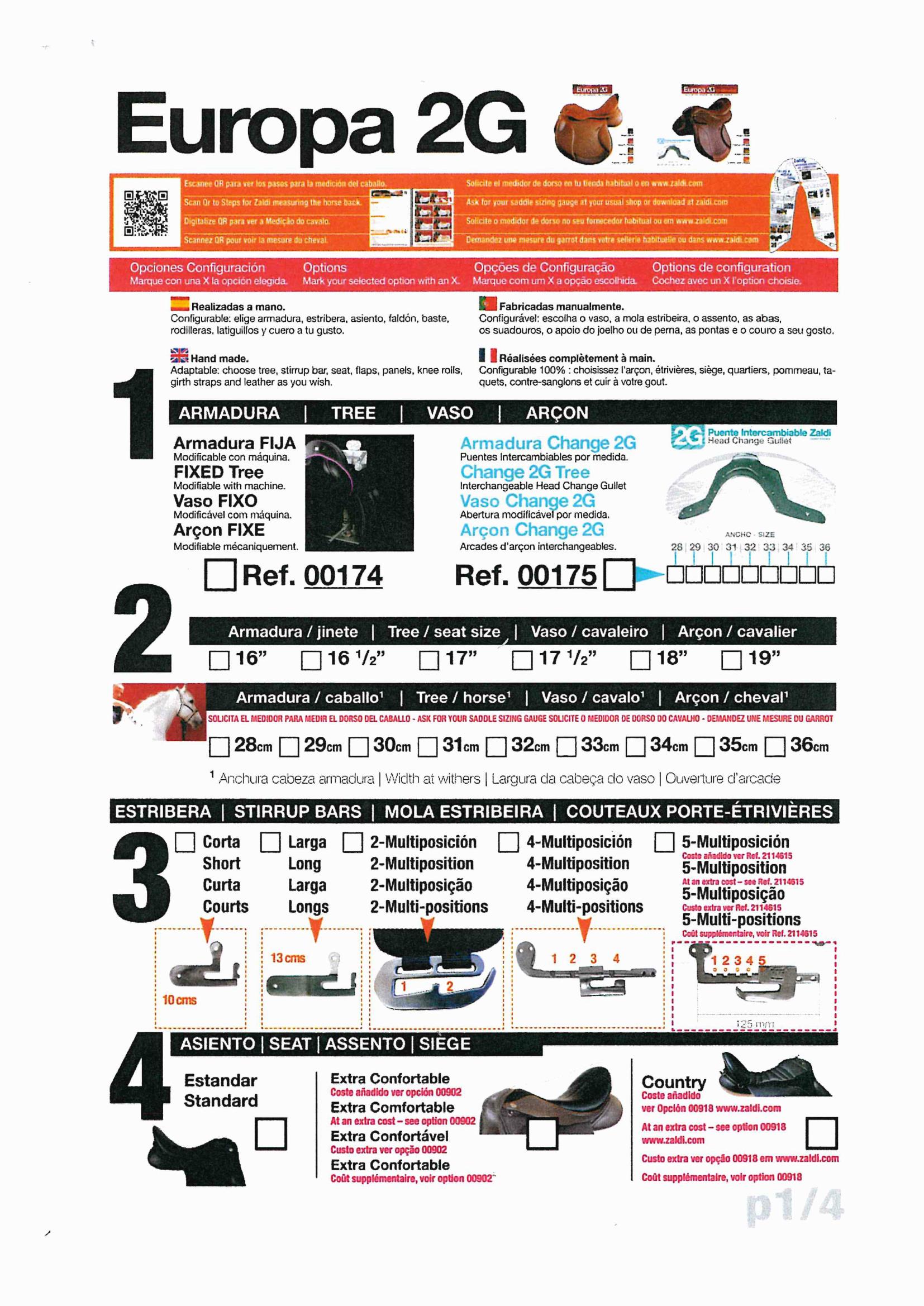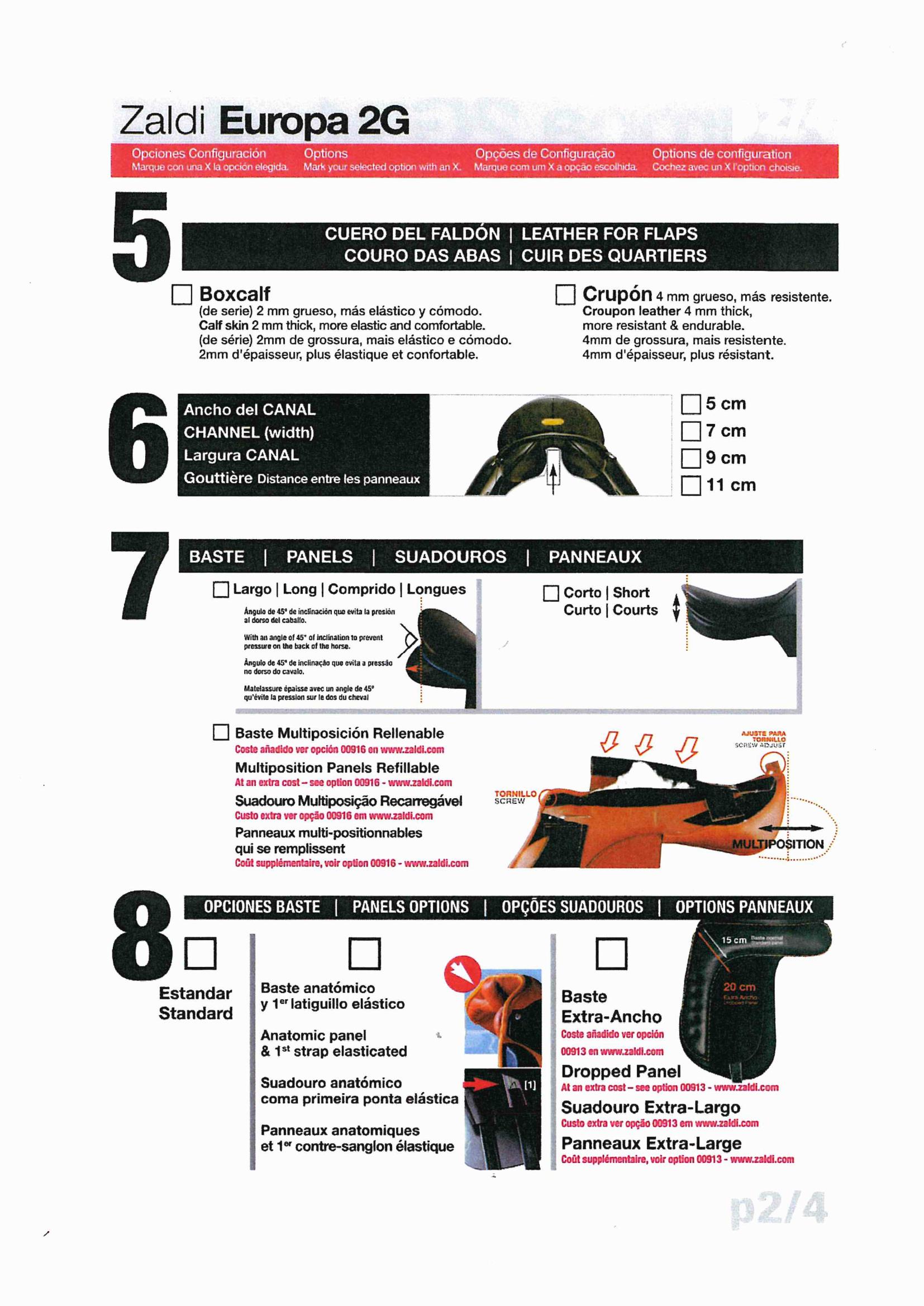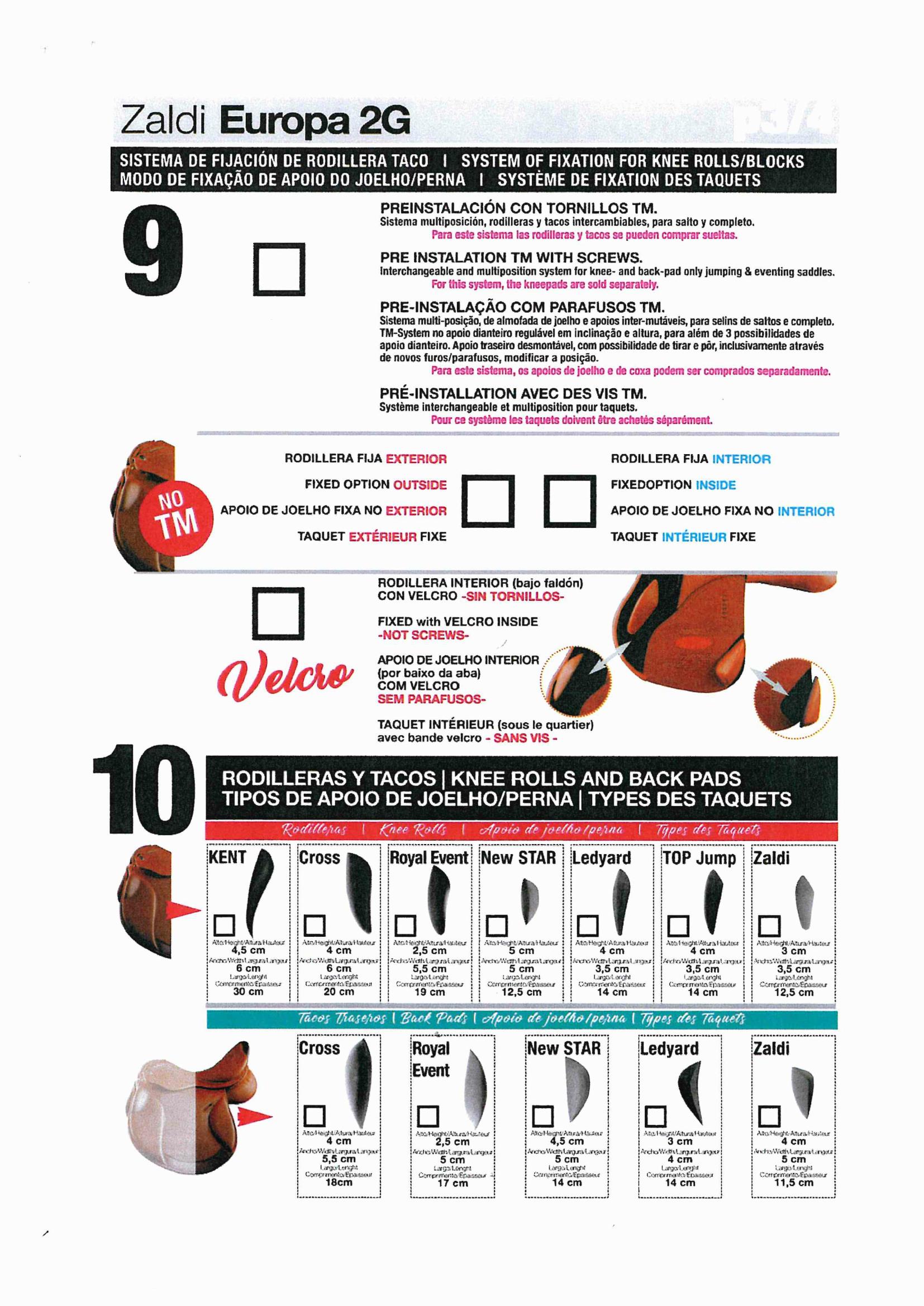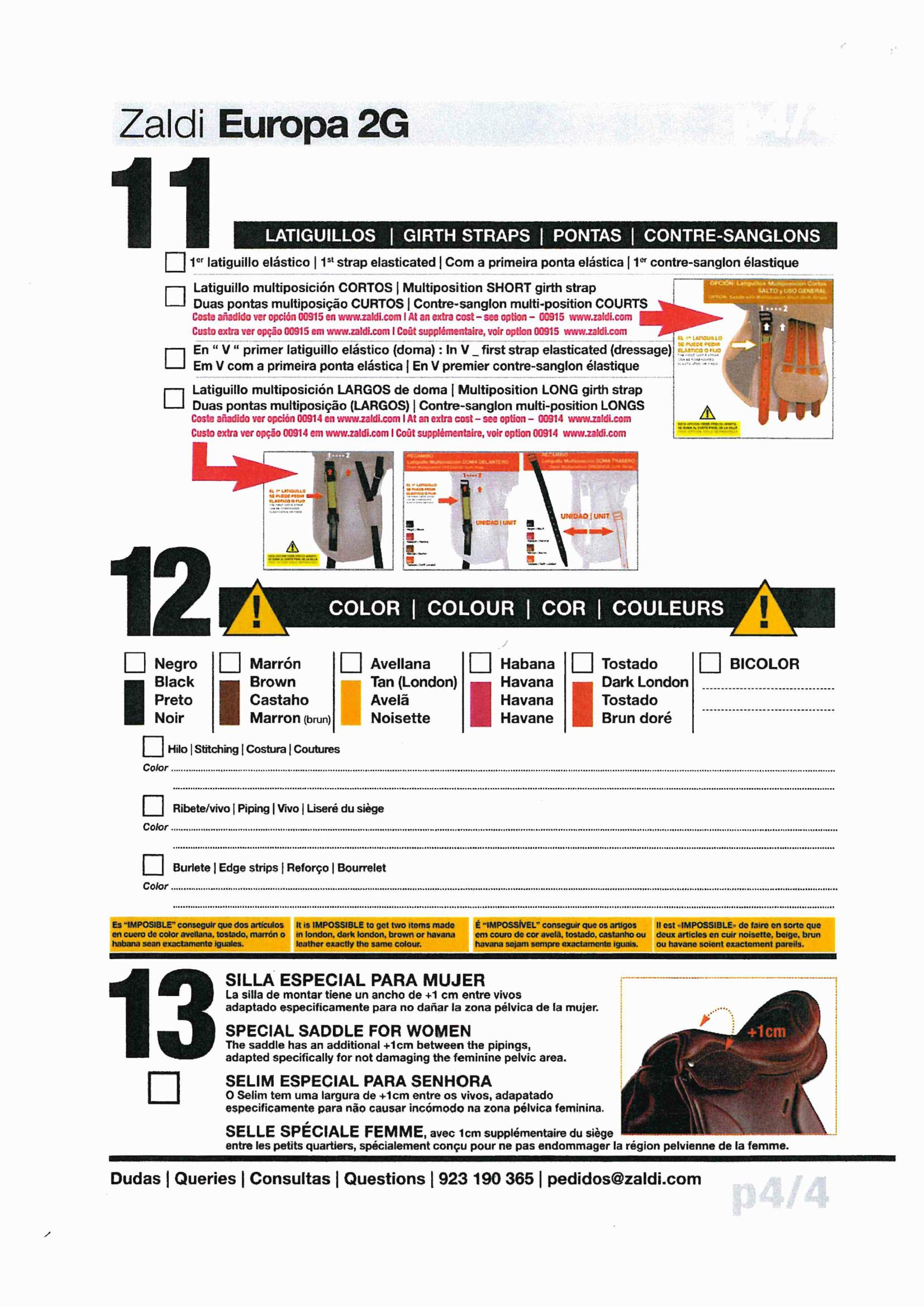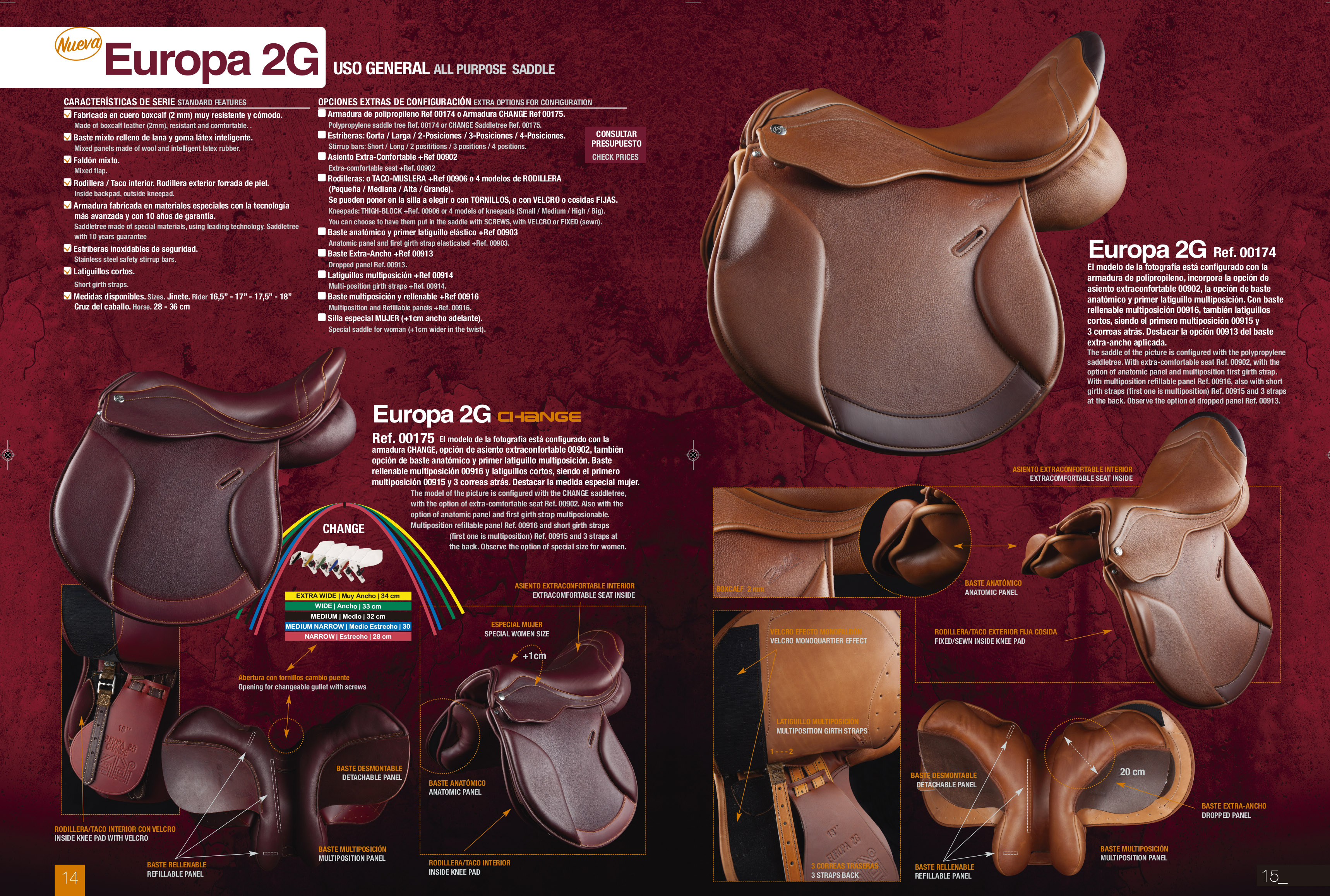 BREAK IN TIME

0 MINUTE
When you put your new saddle on the horse, it seems that it does not fit at all… It is necessary a bit of time for it to fit… Relax!

1-15' MINUTES
Girth your saddle, although it will be a bit loose and it seems it does not fit yet. Don't despair! Get on the horse…

15 - 60' MINUTES
The panels start to adapt to the back of the horse in the correct way. It is possible now to girth it one or two holes tighter.

5 - 10 HOURS
While riding, the saddle continues to adapt. The distribution through the panels of our weight helps to reach a perfect a fitting and adaptation. We can adjust the girth a bit more.

+15 H HOURS
We get an ideal fitting. We feel comfortable on the saddle while it rests/leans where and how it should on the back of the horse. We can now adjust the girth firmly.

DON´T DESPAIR!! Remember that there is a necessary break in time for the best fit. Trust ZALDI!!!
How To Order
Related Products
STAR 2G Second Generation saddles

Zaldi 2G, The saddles for the next generation.

Zaldi offers a world of possibilities to realize your saddle personal style and needs.

Check out the order sheet.