Elvas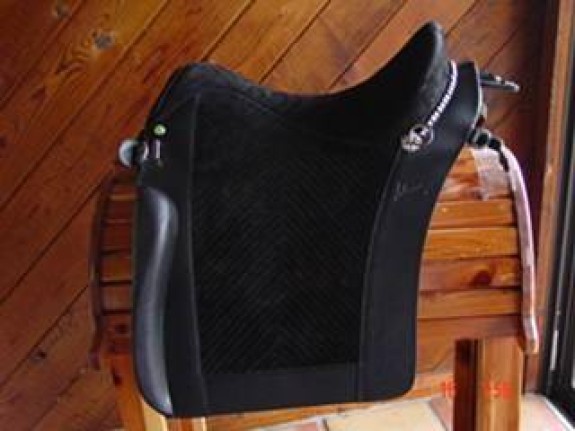 Elvas
Base price:$3200
In Stock: Call to order
The Ludomar ELVA is a beautiful Portuguese dressage saddle. No knee blocks to permit the maximum liberty for the riders legs in an ideal long position.
The Elva is very comfortable with a very deep seat. The flexible tree and very soft seat of the Elva is ideal for dressage or other types sportive activities, working equitation, horse show and entertainment, trail riding and more.
The Ludomar saddle's are made to measure. The saddle gullet width, panel length and filling are made according to the horse's shape. The Ludomar saddle's can be also made for XXL large horses to whom other saddle brands are too narrow. The panels can be made short so that the saddle can fit short backed horses. The canal of the saddle is always large and leaves plenty of space for the spine.
The seat size is custom made for the rider, inside knee blocks can be adapted and the saddle flaps can be ajusted too. Decoration options are limitless: different colors and leather combinations, leather decorations, stitching, decorative buckles in gold or silver, and even the rider's own designs can be used to make this saddle unique.
Contact us and we will be very happy to help you to design your own unique Elva saddle!
Seat sizes: 17, 17.5 and 18"
Bridge/Gullet:, 30, 31/N-2, 32/ N-1, 33/N, 34/ N+1, 35/W, 36/w+1, 37/XW
Billets: long dressage or V billet system
Panels: Latex or Synthetic wool
Flap: 2 flaps or mono flap
Leather options: Box Calf, split leather, suede or nubuck
**HOW TO MEASURE THE SEAT most Spanish/Portuguese/Baroque saddles are measure the same as from traditional English from the button angled to the center back of the cantle. A choice of three widths. Made in leather with quilted suede seat, exterior knee rolls, and latex filled panels.
Hand made in Spain by Ludomar, Warranty is 6 years with normal use. all Ludomar saddles come with a saddle cover.