OMEGA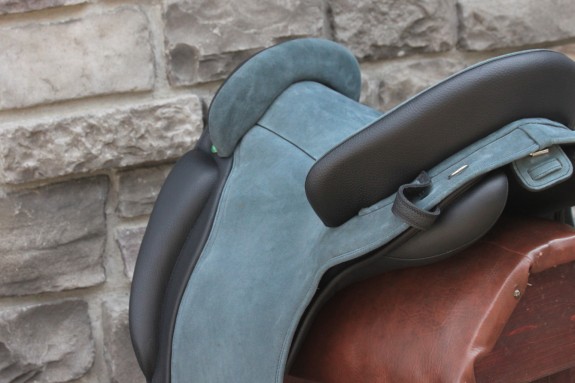 515 OMEGA
BASE PRICE $2900
In Stock: as seen S/N 5549
Ludomar OMEGA saddle,NEW Flex Balance tree. Longer flap, pommel and cantle like the High School saddle. A long exterior knee block for better support for the rider. Suede for extra stick in the saddle. An Excellent choice for riders looking for a Spanish Country design in a dressage saddle sit and feel., Well balance, classic feel
Seat size: 18,
Bridge/Gullet: W 35
Billets: V billet system
Panels: Synthetic wool
Panel length: 55cm
Flap: double
Leather: black Box Calf with grey suede seat and flap
Pipping and stitching: Black piping, grey stitching
Simple D-rings, no tacks
**HOW TO MEASURE THE SEAT most Spanish/Portuguese/Baroque saddles are measured differently to the standard European method - .the is a straight line measured from inside the center/base of the pommel to inside the center/base of the cantle. A choice of three widths. Made in leather with quilted suede seat, exterior knee rolls, and latex filled panels. Metal stud work on front of pommel and rear of cantle.
Hand made in Spain by Ludomar, Warranty is 6 years with normal use. all Ludomar saddles come with a saddle cover.