Argo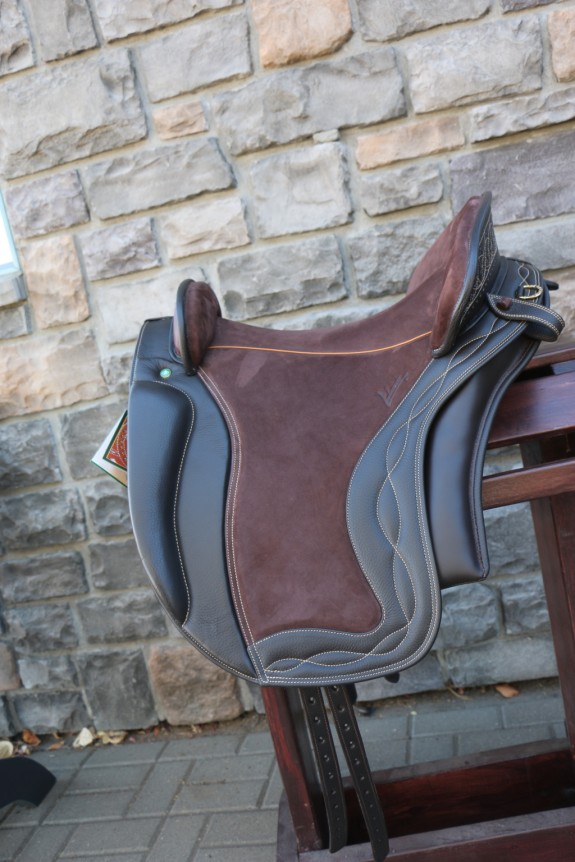 884 Argos
Base price:
In Stock: SOLD
Saddle details:
Seat sizes: 35 cm
Bridge/Gullet:, 35/W, 9cm channel
Billets: V billet system
Panels: wool
Flap: 2 flaps
Leather options: Black Box Calf, brown nubuck seat, and flap insert
Stitching and piping: london
Vaquero filigree on back of cantle with brown underlay and London stitching
Metal: brass
Stirrup bar: English
Large pillows/panels Upcharge: Seen panels designed to distribute riders' weight over a larger area.
The Argos offers more legroom in the flap than the Venus. Very comfortable
The saddle is made with a flexible tree,
It can be handcrafted with the comfort pillows in view or concealed. The being of the panels in view is insuring that the rider's weight is better distributed on the horse's back. These are particularly back-friendly, even for horses with a curved back or a very short contact surface.
The saddle can be single flap/mono or double flap.
In terms of design, there are almost no limits. We also manufacture this saddle individually according to size and design.
**HOW TO MEASURE THE SEAT most Spanish/Portuguese/Baroque saddles are measured differently to the standard European method - .the is a straight line measured from inside the center/base of the pommel to inside the center/base of the cantle. A choice of three widths. Made in leather with quilted suede seat, exterior knee rolls, and latex filled panels. Metal stud work on front of pommel and rear of cantle.
Hand-made in Spain by Ludomar, Warranty is 6 years with normal use. all Ludomar saddles come with a saddle cover.